HAND CRAFTED JEWELLERY DESIGNED AND MADE BY JACKIE DIXON
Welcome to my new hand crafted Jewellery Collection. This is an exciting range of hand crafted rings, bangles, pendants, earrings, broaches & cuff links.
The amazing thing about this bespoke jewellery collection is that the stones are created using nail products. No piece is the same so you can be sure that the piece you wear will be the only one, they are exclusive and individual. I use top quality glass Cabochons that I then hand paint with gel colours, hand art, glitter, layers that give endless possibilities of colour and design.
My collection will change continuously and as well as the pieces that I will make up and sell I am happy to produce any design or colour so that it will match any outfit, gel colour, whatever you want. Just contact me and we can discuss your requirements, I will love designing cabochons that are tailored exclusively for you.
I have already designed and made some cuff links for a client who wanted owls on, these can be seen below.
I use the finest quality silver plated jewellery which is heavy and wonderfully finished.
Some of these designs are limited so please don't think I have a limitless supply of pieces, I will be changing styles continuously and sourcing the best pieces always to ensure the quality is extremely high.
Below is a list of the designs I have currently available, I can make the jewellery up with whatever design of cabochon you require.

RINGS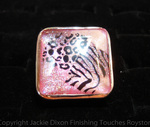 25mm square cabochon on silver ring base.
This is a large stone and the fitting is adjustable
Prices from £25.00
---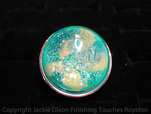 25mm round cabochon on silver ring base.
This is a large stone and the fitting is adjustable
Prices from £25.00
---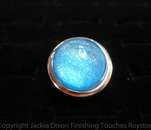 20mm round cabochon on silver ring base.
This is a medium/large stone and the fitting is adjustable
Prices from £20.00
---

18x25mm oval Cabochon on silver ring base.
This is a large stone and the fitting is adjustable
Prices from £20.00
---
18x25mm oval cabochon on cut out silver ring base.
This is a large stone and the fitting is adjustable
Prices from £20.00
---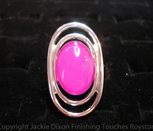 18x13mm oval cabochon on inset silver ring base.
This is a medium/large ring and the fitting is adjustable
Prices from £20.00
---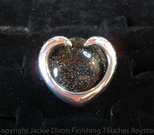 20mm round cabochon on open topped heart silver ring base.
This is a medium/large ring and the fitting is adjustable
Prices from £20.00
---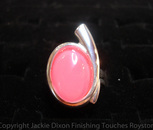 18x13mm oval cabochon on side wave silver ring base.
This is a medium ring and the fitting is adjustable
Prices from £20.00
---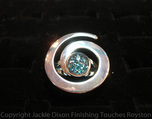 8mm round cabochon on thin spiral silver ring base.
This is a medium/large ring and the fitting is adjustable
Prices from £20.00
---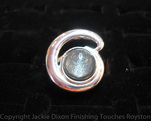 12mm round cabochon on wave top silver ring base.
This is a medium/large ring and the fitting is adjustable
Prices from £20.00
---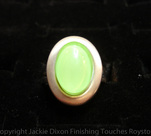 14x10mm oval cabochon on satin silver bezel ring base.
This is a medium/small ring and the fittin is adjustable
Prices from £18.00
---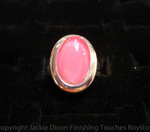 14x10mm oval cabochon on silver bezel ring base.
This is a medium/small ring and the fitting is adjustable
Prices from £18.00
---
BANGLES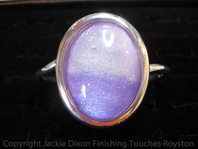 40x30mm oval cabochon on plain bangle.
Fitting is adjustable
Prices from £35.00
---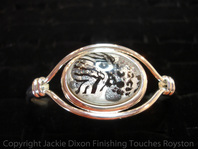 25x18mm oval cabochon on knot bangle.
Fitting is adjustable
Prices from £35.00
---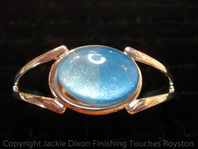 25x18mm oval cabochon on torque bangle.
Fitting is adjustable
Prices from £35.00
---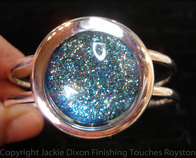 25mm round cabochon on spring bangle.
Fitting up to 60mm not adjustable
Prices from £35.00
---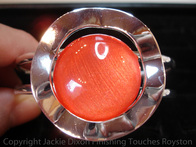 25mm round cabochon on wavy circle spring bangle.
Fitting up to 60mm not adjustable
Prices from £35.00
---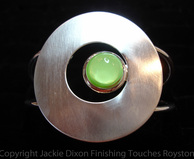 12mm round cabochon on satin donut bangle.
Fitting is adjustable
Prices from £35.00
---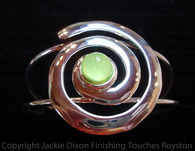 12mm round cabochon on thin wavy swirl bangle.
Fitting is adjustable
Prices from £35.00
---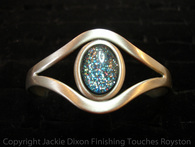 18x13mm oval cabochon on burnished split shank bangle
Fitting is adjustable
Prices from £30.00
---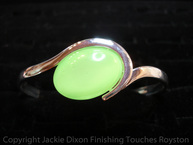 18x25mm oval cabochon on wave top bangle.
Fitting is adjustable
Prices from £30.00
---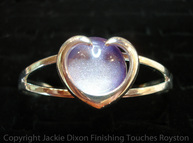 20mm round cabochon on open top heart bangle.
Fitting is adjustable
Prices from £30.00
---
PENDANTS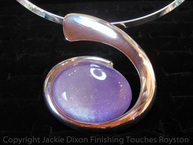 40x30mm oval cabochon on huge wave pendant.
Comes with flat silver wire choker
Prices from £45.00
---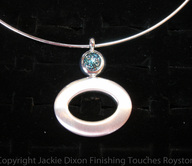 8mm round cabochon on oval pendant.
Comes with thin silver wire choker
Prices from £35.00
---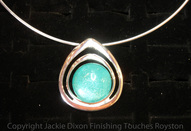 20mm round cabochon on teardrop pendant.
Comes with thin silver wire choker
Prices from £40.00
---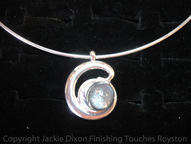 12mm round cabochon on wave top pendant.
Comes with thin silver wire choker
Prices from £30.00
---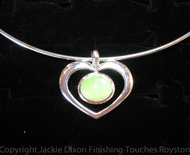 10x8mm oval cabochon on heart pendant.
Comes with thin silver wire choker
Prices from £30.00
---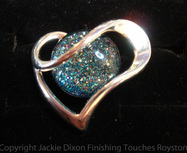 20mm round cabochon on sideways heart pendant.
Comes with thin silver wire choker
Prices from £40.00
---
EARRINGS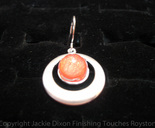 12mm round cabochon on satin finish circular earrings
Prices from £25.00
---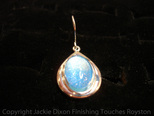 14x10mm oval cabochon on teardrop earrings
Prices from £25.00
---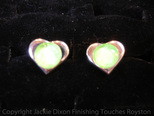 8mm round cabochons on heart shaped studs.
Prices from £15.00
---
CUFF LINKS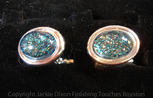 14x10mm oval cabochons on roped edge cuff links.
Prices from £25.00
---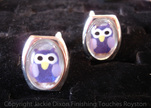 18x13mm oval cabochons with commissioned owl design on squared edge cuff links.
POA
---