MORE ABOUT THE PRODUCTS I USE IN MY TREATMENTS
Individual Products are available for sale in my Salon - I am now using CND Creative Spa Manicure & Pedicure Products to compliment the use of CND Shellac, Gelish & OPI Gelcolor. These are the finest products on the market - INDULGE!
CND VINYLUX NAIL POLISH SYSTEM
THE BRAND NEW COLOUR SYSTEM FROM CND - VINYLUX - AND FEATURING AN INITIAL 62 COLOURS ALL OF WHICH I AM STOCKING THIS INCLUDES 39 OF WHICH MATCH THE CND SHELLAC COLOURS. THIS NEW SYSTEM LASTS UP TO 4 TIMES LONGER THAN NORMAL
NAIL POLISHES WHEN USED WITH THE VINYLUX TOP COAT AS THE SYSTEM - IT CREATES A SHIELD THAT PROTECTS THE VINYLUX POLISH FROM CHIPPING, SCRATCHING, DENTING & DULLING FOR UP TO A WEEK AND THE SUPER FAST DRY TIME & PRO LIGHT TECHNOLOGY MEANS IT ACTUALLY GETS TOUGHER WHEN EXPOSED TO NATURAL LIGHT FOR UP TO 7 DAYS FLAWLESS WEAR.. THIS IS AN ALTERNATIVE TO SHELLAC & THE GEL POLISHES IF YOU DO NOT WANT SUCH A LONG TIME ON YOUR NAILS AND THERE IS NO CURING SO APPLICATION IS FAST AND EASY & THERE IS NO SETTING UNDER A UV LAMP AND IS COMPLETELY DRY IN UNDER 10 MINUTES. I AM ALSO RETAILING THE COLOURS AND TOP COAT AT £9.95 OR £16.95 FOR A COLOUR AND TOPCOAT.
BRISA LITE & BRISA LITE SMOOTH GEL NAILS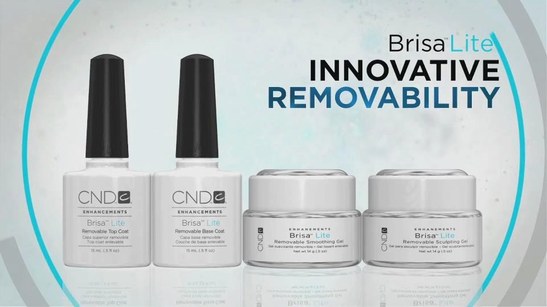 2013 is looking a lot like it's going to be a huge year in the nail industry and Brisa Lite is the first exciting innovation to come from CND. In a nutshell, Brisa Lite is better, easier and safer for nails.

Brisa Lite is the first removable gel that is safe, colour stable and provides UP TO three weeks wear. Whether you're using the Smoothing Gel System or the Sculpting Gel System, Brisa Lite instills serious "beauty confidence" by creating a complete set of natural-looking, perfect nails.

Todays modern, well educated women that have imperfect nails, are resistant to having traditional hard gels because they can be a pain to remov and can only be removed by filing/buffing the gel off the natural nail, they are a challenge to look natural and no matter what any one says, removing surface shine or buffing the natural nail plate can damage your nail if done improperly and even if it's just a teeny-weeny bit.

Brisa Lite changes all this. It's formulated using Brisa's toughness and durability combined with Shellac's removal technologies. The technology delivers long wear and flexibility and the addition of solvents promotes removability allowing it to be taken off in pretty much the same way as Shellac, using Shellac Nourishing Remover. Plus the base coat technology, which also aids easy removal, also means increased adhesion.

**Brisa Lite is ideal for those few ladies who struggle to keep Shellac on due to weak or bendy nails.
Brisa Lite can be applied under Shellac to provide extra strength and can also be used to extend
nails safely with NO FILING OF THE NAIL PLATE before application**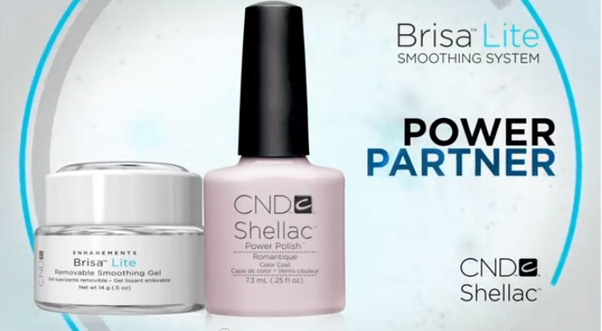 CND Brisa Lite Smoothing Gel

Brisa Lite Smoothing Gel is a unique strengthening gel that was designed specifically for weak, peeling and splitting nails.

What are the benefits of Brisa Lite Smoothing Gel?

It works perfectly as a'power partner' to Shellac, providing extra durability and strength for those who find their challenged nails prevent them from experiencing its lasting power

It can also be worn alone as a clear, glossy overlay and is ideal to help growth & protect your nails from further damage
Ideal for smoothing dented, ridged nails

Requires absolutely NO buffing/filing of the nail plate, which is known to cause damage

Why do you need it?

Easy on: Smoothes in one coat, 5 finger application, four times more controllable

Easy off: Removes in 15 minutes without soaking in acetone; five times faster than soakable gels

Exceptional wear: Helps your Shellac to last up to 3 weeks!

SHELLAC NAILS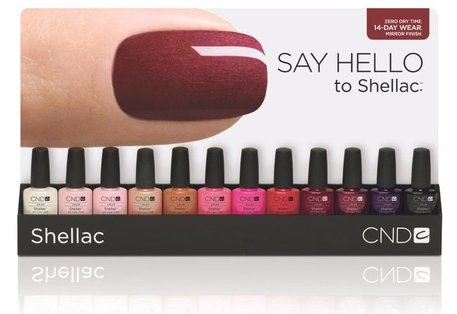 Shellac goes on like a polish and wears like a gel. It is a high shine, mirror finish product that lasts at least 2 weeks and has zero dry time. Shellac was voted product of the year and comes in a range of colours or you can go for a French finish to suit all occasions. The Independent called Shellac the latest and most groundbreaking innovation in nails. Using UV3 technology there is nothing else like it on the market.

Launched in 2010 with 12 individual colours this has now been expanded and in March 2011 another 12 colours were added to the range ensuring there is a beautiful look to suit all my clients requirements and styles and since then another 12 colours have been added and will continue to be added. I stock all 36 colours so the most difficult thing when you visit for a Shellac treatment is choosing which of the fabulous colours to have. I also create lots of new colours by layering.

Since I started using Shellac it has fast become my number one treatment and my clients love it and you can relax in the knowledge that I use the full system and CND UV Light so you get the proper Shellac experience as there are a lot of fake treatments available.
THE COLOURS:
WATCH THE OFFICIAL CND VIDEO:
Offical Press Release by CND:

"CND (Creative Nail Design), the leader in professional nail, hand and foot beauty, is proud to introduce the first hybrid nail color after nearly five years of development in its state-of-the-art laboratory. Now you can say goodbye to chips, smudges, and dry time and say hello to Shellac™ Hybrid Nail Color! This revolutionary product applies like polish, wears flawlessly for 14 days of high-gloss shine, and is removed in minutes. Shellac paints on like polish — base coat, color, top coat — and is cured in a UV light so there is zero dry time. The colors are hypoallergenic, and "3-Free" — no formaldehyde, toluene or DBP. Shellac will launch in a range of 12 varieties of shades, from pretty French pinks and whites, to siren red and rich darks. The formula is thin and flexible like polish, so it not only looks natural, it provides strong natural nail protection with a resilient mirror finish that resists dullness and chipping, even during the most rigorous activities. As amazing as Shellac is on, removal is just as satisfying! No soaking, drilling or filing is necessary. Nails are wrapped in individual Shellac Remover Wraps — integrated cotton pads that limit finger and skin exposure to acetone by keeping it pinpointed on just the nail. Ten minutes of time in exchange for two weeks of perfect color is all it takes. Say good-bye to manicure frustration and hello to pure manicure satisfaction".
Shellac is a professional salon service launching globally in May 2010".
All 36 Colours Available at Finishing Touches, Royston Now!
GELISH NAILS
Gelish is a fantastic new soak-off product offering colour in a gel. It is applied like a polish and has the strength of gel. Gelish Nails are maintenance free lasting around 2 weeks and remains super shiny!!!

This is no ordinary manicure treatment. This will give you a permanent nail colour which can be used on natural nails, enhancements and is great for toes.

Gelish is a new experience in nail care -

* No Chipping
* No Peeling
* No Cracking
* No Smudging
* Flawless Finish
* Soak off in 15 mins

Gelish is an ideal product for anyone who is looking for something just that little bit special or is having their regular enhancements removed and still needs protection on their nails. This product is absolutely brilliant for nail bitters as it allows your nails to grow whilst nourishing the natural nail which means nice healthy "own" natural nails!!!
The Gelish colour range is exciting and is frequently expanding! Please contact us for more details about the Gelish colours currently available. There is a wide range of colours to choose from, including: glamorous reds, delicious browns, dare to wear purples and bright pinks. Natural and nude colours are also available to choose from. The classic French Manicure is also available. They also have a super range of glitter and shimmer polishes as well as the new Neon collection.

There will be no damage to your nails during application. A base coat, 2 layers of colour and a top shiny coat are applied to give you a perfect finish.

To remove Gelish, your nails are foil wrapped with soaked cotton pads and Gelish remover for a few minutes.

Once tried, you will not look back. It is a fantastic product which is becoming increasingly popular. If low maintenance nail care with a glossy finish is what you are looking for then Gelish is perfect for you!

Gelish has been worn by the X Factor 2010 contestants and judges, Cheryl Cole and Dannii Minogue! Heidi Range of the Suga Babes and Alexandra Burke are also huge fans of Gelish too!

I have over 40 Colours in stock and can create plenty more by creative layering.
OPI GELCURE
OPI has officially launched their brand of the now famous UV manicures!

OPI Gelcolor
is as easy as 1, 2, 3 to apply and it is just as easy to take off.
OPI Gelcolor officially launched in March of 2012 in the UK. Its launch was energetically
anticipated by women throughout the UK and is now available here at Finishing Touches Royston.
There are a total of 30 Gelcolors available for application. This number will definitely increase as OPI adds more of its already famous color selection to this manicure system.

OPI Gelcolor is just one of OPI's many revolutionary polishes. Since OPI was founded they have continued to bring women amazing colors, styles, and new products for home use and for nail salon services. You will find that when you compare OPI Gelcolor vs Shellac or Gelish you are going to be 100% satisfied with the results.
What is Gelcolor by OPI?
Gelcolor by OPI is a Ultraviolet manicure system that allows your nails to stay healthy and strong while maintaining the chic shine of a salon service.
Gelcolor goes on like polish, cures in 30 seconds, and lasts for weeks. With Gelcolor you are sure to fall in love with your nails again…and you won't have to worry about damaging them.
KONAD - FABULOUS NAIL ART DESIGN
KONAD is a revolutionary nail care brand that expands the promise and possibility of beauty for hands and feet through products that consistently help you create unique and expressive nails. KONAD purses this with an unwavering commitment to innovation and excellence. Testament to this is KONAD Stamping Nail Art; a simple nail imprinting system that spurred a cult-like following and international acclaim for its exceptional take on nail art. With KONAD your nails become the perfect accessory to an outfit or that subtle flash of indulgence defining a personal look, it can even be used on mobile phones. KONAD is Positively Addictive. Join the Craze!

Available at Finishing Touches Royston Now!!
NSI ATTRACTION ACRYLIC TREATMENTS - EXTENSIONS
Achieve the most vibrant customised pink and white enhancements with NSI's unique blend of tri polymers. The NSI Attraction Acrylic System delivers exceptional adhesion, strength and flexibility. The workability of their Acrylic liquid and powders are unsurpassed, allowing nail technicians the benefit of a unique flow and spring-back action that makes application even easier! I have used NSI products since I began my business and even though I have tried other products have found this to be the smoothest to apply and the one which gives a perfect, long lasting result every time.
MARVEL LASH EYELASH EXTENSIONS
Salon System's Marvel-Lash is a simple, safe and effective method of dramatically enhancing the appearance of the eyes.
Natural Lashes are thickened and lengthened with immediate results. Lashes are almost weightless and so comfortable to wear that they look and feel just as if they're your own. Looks amazing and the results can last for up to 2 months. With regular top up treatments the effect is indefinite.
It is so easy to wear, once lashes are applied they do not need to be removed – even at bedtime. Perfect for holidays, weddings and for everyday use. The lashes are even water resistant.
Maintenance - The Hair growth cycle is roughly 6-8 weeks and lashes will inevitably shed with your own lashes. It is therefore recommended that a 2-3 week maintenance treatment is performed to top up any shed lashes looking at their best with regular top ups you can wear your lashes for as many months as you like.

No Time, need a quick fix - Marvel-Lash EXPRESS creates long, thick, luscious lashes in just 35 minutes.
Marvel lash EXPRESS is an exciting new treatment with dramatic results. Marvel-Lash EXPRESS promises long luscious lashes that last for 7-10 days - a fantastic treatment for those who want full on glamour for that special occasion.
Marvel-Lash individual lashes are adhered to your natural lashes creating length and volume with immediate effect. This is the perfect treatment for those short on time, the effects are instant, there's no need to wear mascara and lashes feel completely natural. A fantastic treatment for those who want instant full on glamour for that special occasion
LASH FX MINK SILK EYELASH EXTENSIONS
Lash FX Mink, silk, individual eyelash extensins . Suitable for every occasion, they will make lashes look longer, thicker and extremely natural, thus making the eyes very endearing and appealing. The more glamorous look can also be achieved, making them suitable for every kind of occasion and customer.

Lash FX lashes are to be applied by a trained expert and the application procedure is very comfortable and relaxing. The application procedure generally lasts for around 11/2 hours, which is very comfortable and relaxing for the client, during which the eyes are carefully closed and protected throughout.

Lash FX lashes naturally darken the lashes making them fuller and more visible. Lash FX Eyelash Extensions are comfortable on the eyes and very light. They can last up to 12 weeks, when cared for correctly, and we recommend maintenance every few weeks for the best appearance. When applied professionally, they do not damage the natural eyelash, which can be the case with traditional self-applied false eyelashes.

Lash FX International. the answer to glamorous eyelashes! Dazzle at the party, Shine at the wedding, Gleam on the beach.. with Lash FX Eyelash Extensions. Mink, silk eyelash extensions applied individually to the client's natural eyelashes.

Lash FX are a UK based company specialising in the sales and training of Semi Permanent Eyelash Extensions with WORLDWIDE DISTRIBUTION. Lash FX supplies the top quality products suitable for every occasion, they will make lashes look longer, thicker and extremely natural, thus making the eyes very endearing and appealing.

The more glamorous look can also be achieved, making them suitable for every kind of occasion and customer.

SILK MINK LASHES
Silk Mink lashes are individual eyelashes, softer, glossy and light in weight, very similar to real mink hair. Made from synthetic silk. Say bye to polyester and hello to SILK!!! Comes in LASH FX J-CURL & LUNA CURL.
Introducing an innovative technique that enhances your natural beauty. Lash extensions applied one by one that are: light weight, comfortable, water resistant and damage free all while using medical grade adhesive made in Canada.

Collaborating with a team of professionals, Lash FX has ranked as one of the finest and most innovative industry leaders in the eyelash extension market. LashFX delivers top quality and premium products that are so light weight, you don't even feel they are on!
REFECTOCIL EYELASH & EYEBROW TINTING

Eyelashes and eyebrows tinted with RefectoCil simply look better! The lashes appear clearly longer and more voluminous, as the tinting accentuates the full length of the lashes faded by sun and water. Light brows can be accentuated by a dark tint; dark brows can be lightened to match dyed blond hair or to be co-ordinated in brightness and colour with any hair colour.
With tinted eyelashes the eyes look more vivid, even in the morning when waking up they already look expressive. In addition eyelash tinting is extremely practical and time-saving, because daily application of mascara is avoided! With tinted eyelashes the eyelashes and eyes look expressive and attractive for weeks - even without mascara. When using mascara unpleasant clumps often cause individual lashes to stick together. With tinted eyelashes there is no such problem, because the colour penetrates into each individual lash - without sticking them together or producing clumps. Particularly for contact lens wearers eyelash tinting is ideal. They frequently suffer because the fine Mascara particles irritate the eye. For sport enthusiasts eyelash tinting is perfect, as it is water resistant for weeks and even when sweating does not smear or run.