Please use the Google map facility below to help you locate my salon
Andersons Hair Salon, 5 Angel Pavement, Royston, SG8 9AS
LATEST NEWS
COMING SOON TO FINISHING TOUCHES ROYSTON THE BRAND NEW COLOUR SYSTEM FROM CND - VINYLUX - AND FEATURING AN INITIAL 62 COLOURS ALL OF WHICH I WILL BE STOCKING AS SOON AS THEY ARE RELEASED FOR SALE. THIS NEW SYSTEM LASTS UP TO 4 TIMES LONGER THAN NORMAL NAIL POLISHES WHEN USED WITH THE VNYLUX TOP COAT AS THE SYSTEM - IT CREATES A SHIELD THAT PROTECTS THE VINYLUX POLISH FROM CHIPPING, SCRATCHING, DENTING & DULLING FOR UP TO A WEEK. THIS IS AN ALTERNATIVE TO SHELLAC & THE GEL POLISHES IF YOU DO NOT WANT SUCH A LONG TIME ON YOUR NAILS AND THERE IS NO CURING SO APPLICATION IS FAST AND EASY.
MAY 2013 - THE FAB NEW GELISH SUMMER COLLECTION - ALL ABOUT THE GLOW, 6 AMAZING NEW NEON SHADES TO LIVEN UP YOUR SUMMER FOR FINGERS & TOES - ALL 6 COLOURS WILL BE AVAILABLE HERE AS SOON AS THEY ARE RELEASED.
APRIL 2013 - THE NEW SHELLAC SUMMER SPALSH COLLECTION AVAILABLE NOW AT FINISHING TOUCHES ROYSTON - 4 BEAUTIFUL NEW SUMMER COLOURS FOR FINGERS & TOES
22nd NOVEMBER 2012 - AVAILABLE NOW AT FINISHING TOUCHES ROYSTON THE STUNNING NEW HOLIDAY COLLECTION OF GEL COLOURS FROM GELISH - 6 GLITTER COLOURS DESIGNED ESPECIALLY FOR THE FESTIVE SEASON AND PARTY TIME ALTHOUGH THESE COLOURS WILL LOOK GOOD ANYTIME!
1st NOVEMBER 2012 - I AM PLEASED TO ANNOUNCE THAT I NOW HAVE THE 6 NEW SHELLAC AUTUMN COLOURS IN STOCK AS WELL AS THE 2 SPECIAL EDITION CHRISTMAS 2012 COLOURS.
1st NOVEMBER 2012 - MORE NEW COLLECTIONS TO TELL YOU ABOUT!!
2 NEW OPI GELCOLOR COLLECTIONS - JAMES BOND SKYFALL WHICH HAS 6 AMAZING COLOURS AS WELL AS THE NEW GERMANY COLLECTION WHICH HAS ANOTHER 6 AMAZING NEW COLOURS ARE ALL AVAILABLE NOW AT FINISHING TOUCHES ROYSTON
3rd JULY 2012 - I AM DELIGHTED TO TELL YOU THAT I HAVE JUST ADDED THE 2 NEW OPI GELCOLOR COLLECTIONS - HOLLAND & TOURING AMERICA -TO MY STOCK
24th APRIL 2012 - LATEST NEWS - YET AGAIN I HAVE SOME FABULOUS NEW TREATMENTS ON OFFER FROM THE END OF APRIL 2012. I AM NOW OFFERING KONAD NAIL ART AS WELL AS A NEW, LUXURY RANGE OF ROLLER SYSTEM WARM WAX BY CLEAN & EASY
29th MARCH 2012 - LATEST NEWS - I AM NOW OFFERING OPI GELCOLOR TREATMENT TO COMPLIMENT SHELLAC & GELISH THAT I ALREADY OFFER
5th MARCH 2012 - LATEST NEWS FOLLOWING MY VISIT TO PROFESSIONAL BEAUTY SHOW AT LONDON'S EXCEL
21st FEBRUARY 2012 - LATEST NEWS - BEAUTY SHOW - NEW SHELLAC COLOURS - NEW GELISH MAGNETO TREATMENT
3rd JANUARY 2012 - REFECTOCIL EYELASH & EYEBROW TINT - NEW TO FINISHING TOUCHES ROYSTON
8th December 2011 - 6 GREAT NEW SHELLAC COLOURS COMING MARCH 2012
19th November 2011 - FINISHING TOUCHES FACEBOOK PAGE NOW AVAILABLE
19th November 2011 - NEW QUALIFICATIONS OBTAINED
20th October 2011 - INTRODUCING ROCKSTAR FINGERS & TOES & SHELLAC, GELISH & ROCKSTAR PARTIES
10th October 2011 - LASH FX MINK, SILK, EYELASH EXTENSIONS ADDED TO MY TREATMENTS & MORE GELISH COLOURS
*PRICE LIST NOW UPDATED*
19th SEPTEMBER 2011 - Report from Olympia Beauty Show 2011
16th SEPTEMBER 2011 - MINX to be added to my treatments & 6 new Shellac Colours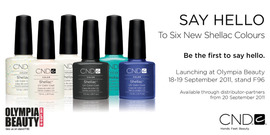 ---
GALLERY - Click on image for full size & Description